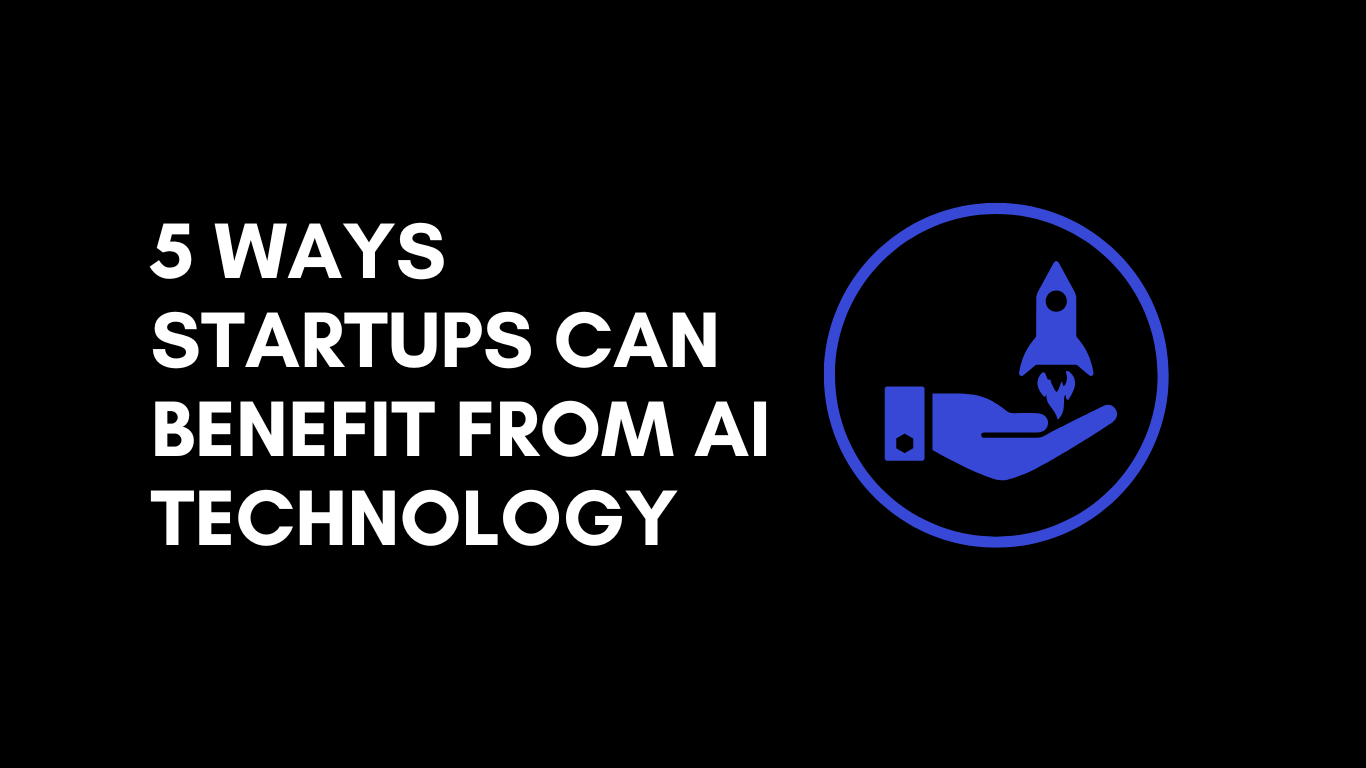 Artificial Intelligence is slowly becoming more and more useful in our daily lives. From personal life to professional, the applications of AI are endless. In this article, we will see 5 ways startups can benefit from AI technology.
Artificial Intelligence is taking over the world with its many applications and uses. With the help of AI tools such as ChatGPT, Midjourney, and more, you can create a complete brand and image for yourself or your business. AI can be used in many different ways to improve the working efficiency of an individual or an organization. 
If artificial intelligence is so good at improving the working conditions of a particular place then why shouldn't you take advantage of this technology to improve the quality of the output at your startup? There are numerous ways you can implement AI tools in your workspace to improve the quality of your work and increase output. And if used correctly, the implementation of these tools can help improve the results that your company produces.
Artificial Intelligence can highly benefit startups as well. Startups are businesses that are in their initial phases. Nowadays, the number of startups is increasing day by day. In a world dominated by such startups, you would want your idea or work to get on top and beat the competition. This can only be done when you work towards familiarising yourself with the many tools that are available today. 
This is where artificial intelligence comes into play. You can use the many tools that are available and developing to improve the working and efficiency of your startup. There are many creative ways your startup can benefit from AI technology. Some of these benefits are discussed in this article. 
5 Ways Startups Can Benefit from AI Technology:
Startups can use the power of artificial intelligence in many different ways. From introducing new ways of doing certain tasks to changing traditional methods to improve efficiency, there are many ways AI can be used to make the lives of workers easier. 
Artificial Intelligence tools are becoming more and more popular every day. This tool can help you improve your productivity and enhance the work that you have already done. Taking advantage of AI tools can be a great way to help you improve your overall performance. Here we have summarized 5 ways startups can benefit from AI technology. So let's get started. 
Provide Cost-Effective Solutions:
One of the many benefits of AI is that it provides you with cost-effective solutions. Startups already do not have a large budget to start with so using the power of AI can greatly help improve the benefits a person can get. 
With the release of ChatGPT and similar technologies, powerful AI tools are becoming increasingly common and popular. Now, small to medium-sized businesses can take advantage of the many benefits of AI to improve their work and compete in the market. 
Compete with Large Organisations:
As a startup, one of the most daunting things for a company is to understand how to compete with its competition and other large organizations in the market. If used correctly, artificial intelligence can help you achieve just that. AI tools are making it easier for small startups to set their mark in the market and compete with big companies without spending millions of dollars.
Large companies and organizations have been working for years in understanding how they can use the power of AI to improve their services. With the latest addition of AI tools such as AI chatbots, any small to medium-sized organization can also take advantage of the power of AI.
An online presence is crucial for a startup to grow. There are many ways artificial intelligence can be used to improve the marketing efforts of that company into viable results
One of the biggest advantages of AI tools is that this technology provides you with a wide range of ways how you can improve your marketing without having to hire a large team or spend millions of dollars. 
Content creation and publication are also becoming easier with the help of artificial intelligence. You can use many AI tools such as Canva to create stunning visuals to improve reach and grow your audience. 
Learn more about AI-generated content here.
As a startup, the importance of your first few customers is immense. Once you cash a trustworthy relationship with a customer, they are likely to become a returning customer to your business. This is highly important if you want to establish your business. 
Artificial Intelligence can be of huge help when it comes to building meaningful relationships with your customers and partners. AI chatbots and similar tools can help you immensely with finding the right ways to stay connected and build relationships that last.
Improve Employee Work Rate:
Lastly, one of the many benefits of artificial intelligence is that it can help improve the working of your employees. AI tools, if used correctly, have the ability to improve the individual performance of an employee.
With the help of artificial intelligence, you can perform several useful tasks. Tasks that are automated and repetitive can be easily performed by AI tools. This can help employees to focus on important tasks at hand and avoid the need to spend hours on the same activities. Similarly, there are many other ways you can use AI in the workplace to improve the individual performance of your employees.
Artificial Intelligence has already become a part of our daily lives. With the release of ChatGPT, the revolution of AI has just begun. Artificial Intelligence has many applications in almost all wakes of life. A startup can take advantage of these AI applications to improve and expand its working. 
Startups can greatly reduce the manual labor that is put into their everyday work with the help of AI. Artificial Intelligence cf can even improvise and improve the work that a startup is already doing as well.