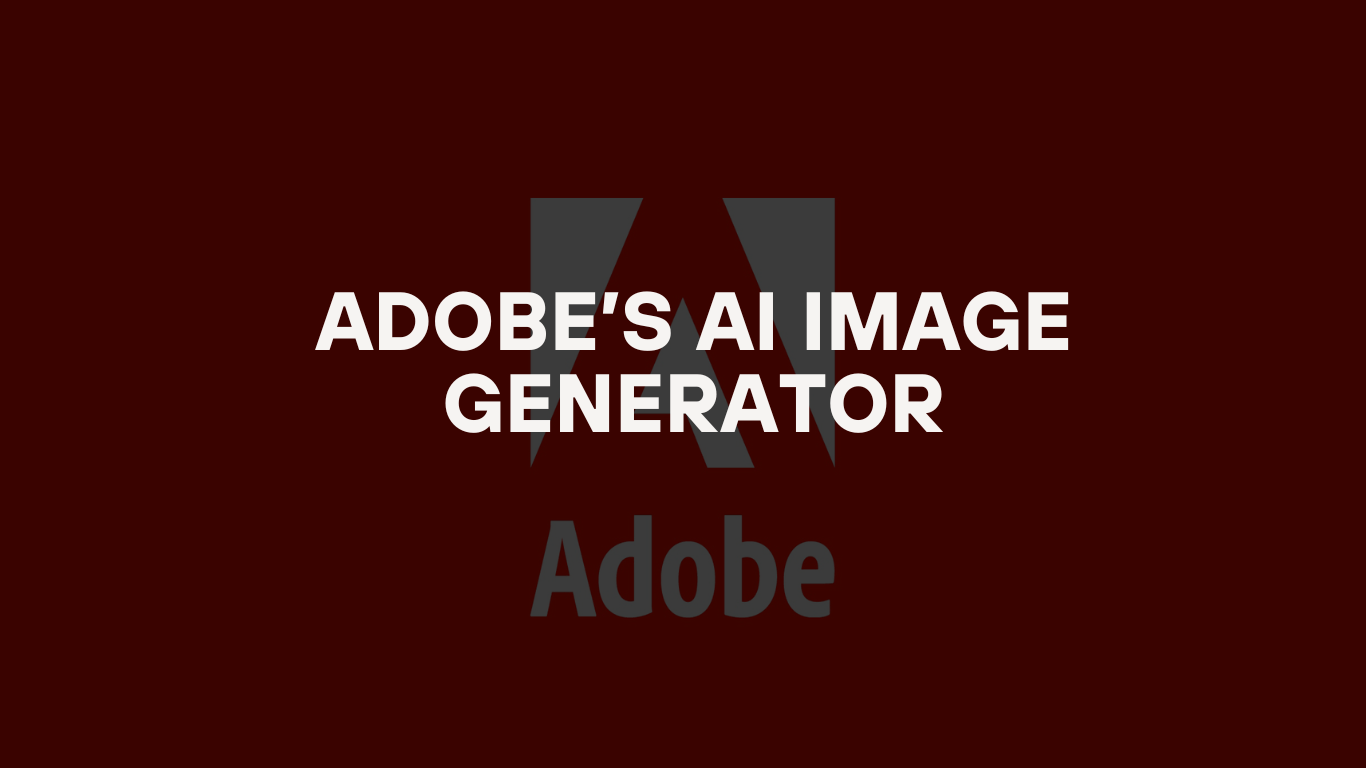 Adobe is among the many companies that work in visual creativity. With AI taking over the world, it's natural to question what the future of these companies will look like. Here's what Adobe is doing with its latest AI image generator. 
AI is transforming how we use and consume media. From text generation to image generation, every wake of life is being updated with the help of AI. Images and visuals are another area of everyday life that is being transformed by AI. Way before the recent evolution of AI, people could use different apps to generate images and customize them using different forms of art. Since this revolution, the art industry was under the question of getting extinct. If you can create art with the help of AI tools, then what is the need of making images on your own? And if art is going extinct then that puts pressure on companies that focus on providing tools for artists all over the world such as Adobe.
Naturally, companies such as Adobe understand the need to stay up to date with the latest development in technology. For any company to thrive in today's age, they have to adapt to the AI revolution as well. 
To keep itself relevant, Adobe has finally come up with its own AI image generator. An AI image generator is a tool that allows you to generate and produce images with the help of AI. Let's take a deep look into the new technology released by Adobe and what you can do with it. 
Adobe Firefly: AI Image Generator
Adobe is set to lunch its latest AI product in the market called, Adobe Firefly. Several different tools will be a part of this new product by Adobe but at the moment the company will be releasing two of the tools to let the users get familiarized with the AI advancements currently happening in the company. 
Among these two tools, one of them can be used to produce images by typing in a random prompt, similar to DALL-E or Midjourney. The other tool will allow you to generate stylized texts. 
Adobe has been one of the biggest companies when it comes to visual and creative design. However, they have not worked too hard on transforming their creative suite with the help of AI up till now. Adobe is finally stepping up and working on releasing tools that will let you create more easily and revolutionize how you design.
For now, Adobe Firefly can only be used through a website, and the company is calling it a beta product. Adobe has announced that it is working on integrating AI into all its products, such as Illustrator, Photoshop, and more. 
Future of Design: 
Alexandru Costin, VP of generative AI and Sensei at Adobe announced that the purpose of AI generative models in Adobe is to bring about a change and new way of working for the creators. 
With the help of Firefly, Adobe is planning on making art easier for the creators. One of the many features of Firefly is that it allows you to generate different posters and banners using a mood board of your choice. Adobe Firefly will also allow you to build on 3D models and make changes to your design without having to change the entire thing. The central focus of the latest products by Adobe is to make it easier for creators to save up time on tedious and repetitive tasks and adapt accordingly. 
Adobe is also planning on paying creators to test out the products that they are working on and helping the company build better and more effective tools for the future. Unlike many other companies working in the field of AI, Adobe has been completely transparent about the model they are using and is willing to share the data of these models. 
The future of the tools developed by Adobe is still uncertain. According to the company, they are working on making AI accessible to artists without letting it come in the way of their art itself. 
The future of AI generative tools in creativity is still under question, and there is no telling how the audience will take the new adaptions. However, it is important to note that these tools look refreshing. These can further make other Adobe products, such as Photoshop and Illustrator a lot more efficient.