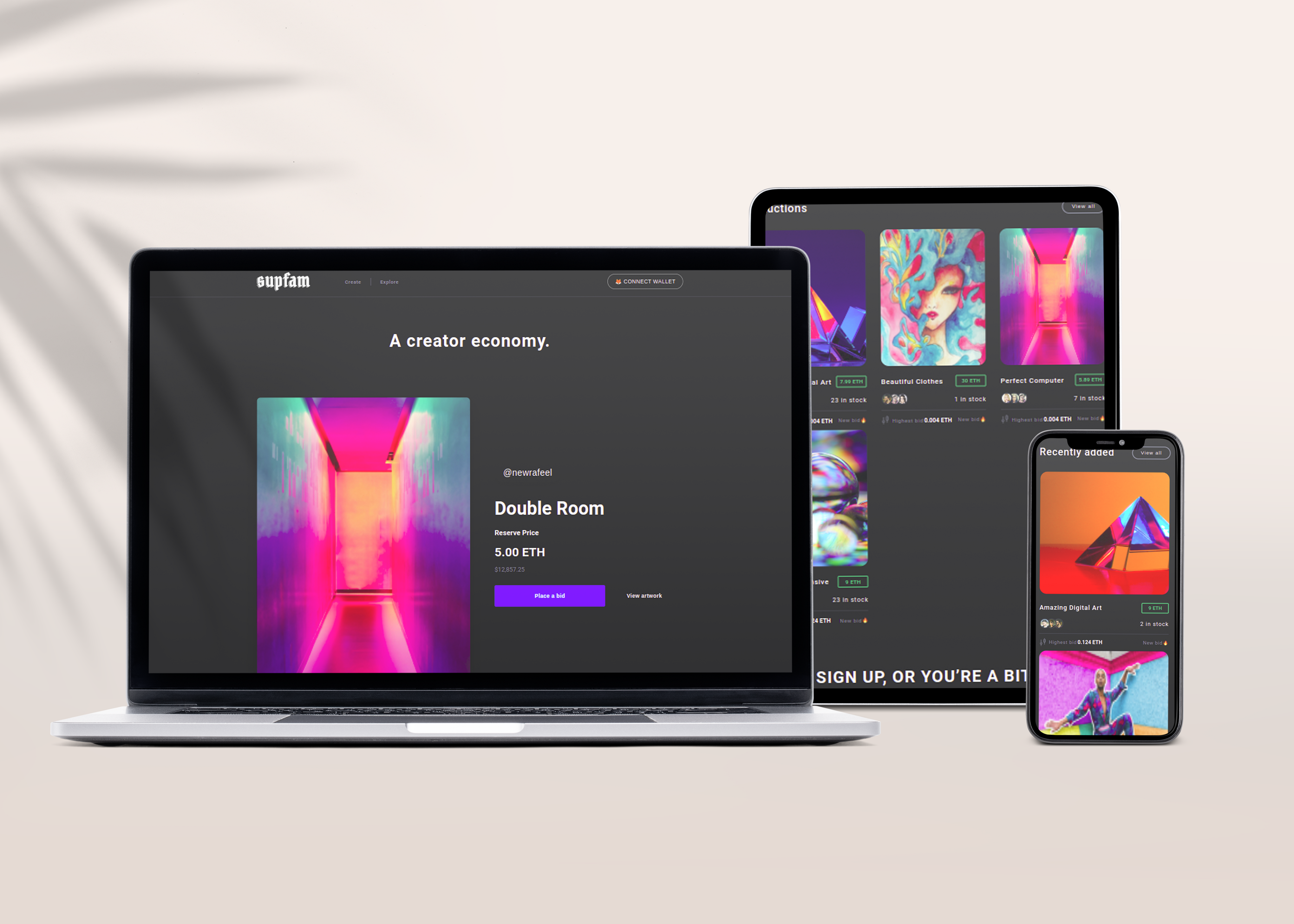 LOCATION:                                                  
USA 
INDUSTRY:
NFT and Tech, eCommerce
TECHNOLOGIES WE USED:
React, Material UI
SERVICES WE PROVIDED:
Frontend development
PROJECT DURATION:
Duration: 3 months
LIVE DEPLOYMENT: 
 https://staging-supfam2.herokuapp.com
OUR CLIENT
Supfam is a digital marketplace that works with NFT selling and purchases. It is a place where artists can create and sell their work and at the same time people who have an interest in their work can reach out to them and make purchases.
THE PROJECT:
Supfam hired us to develop the frontend of their website. At Codesy Consulting, we have experts who can work on multiple different services and industries which is why we were more than happy to start this project. 
Supfam provided us with the design that they had made and we were hired to ensure that these designs could be engineered with the best adhering practices. 
CODESY CONSULTING SOLUTION:
An NFT marketplace is complex and requires a number of different important parameters. When it comes to developing and designing eCommerce websites, we have experts that can engineer high tech IT solutions within no time. 
To make an NFT marketplace, our team developed strategic plans that could be implemented to introduce a new and sleek design in the market.  
We began our research by understanding the industry and getting to know how we can make an impact and leave our mark. Our team then moved on to designing rough sketches of what the end product should look like. 
Our team worked with React and material UI to make sure that the website was highly responsive and as per the requirements of the clients. 
KEY FEATURES:
There are many things about this project that made it stand out. Some of these key features are:
Developing a unique marketplace.

Integrating seamless API systems.

Developing the website in an interactive manner. 
CHALLENGES FACED:
With every new project, you have to take on the responsibility of engineering something new and fresh. At codesy Consulting, we believe in the importance of providing unique solutions to all our clients. 
We had to perform extensive research on what's hot in the NFT market and engineer our website accordingly. 
A digital marketplace needs to have a check and balance system. To make sure we provide unique solutions, we developed a seamless API integration method that could help users find their way throughout the website easily. 
Our team worked on developing the frontend of the website in such a way that it could accommodate all the people who visited the website and made purchases and sales. 
HOW IT WORKS:
The frontend of the website, Supfam is unique and interactive. We wanted to develop the frontend in such a way as to keep the aesthetic of the company alive. 
At Codesy Consulting, we worked on understanding the design and history of Supfam in order to develop a seamless and easy to use design. 
API integration was made easier and a lot more safer to use. We worked on the website frontend to make sure that it could help the users navigate easily. 
END RESULTS AND 
By the end of the project, we were able to engineer the frontend of Supfam according to the needs of our clients. We worked with Supfam to bring life to their designs and our team did just that. 
At Codesy Consulting, we understand the importance of every project and helped our client launch the website once they were pleased with all the specs of the website.