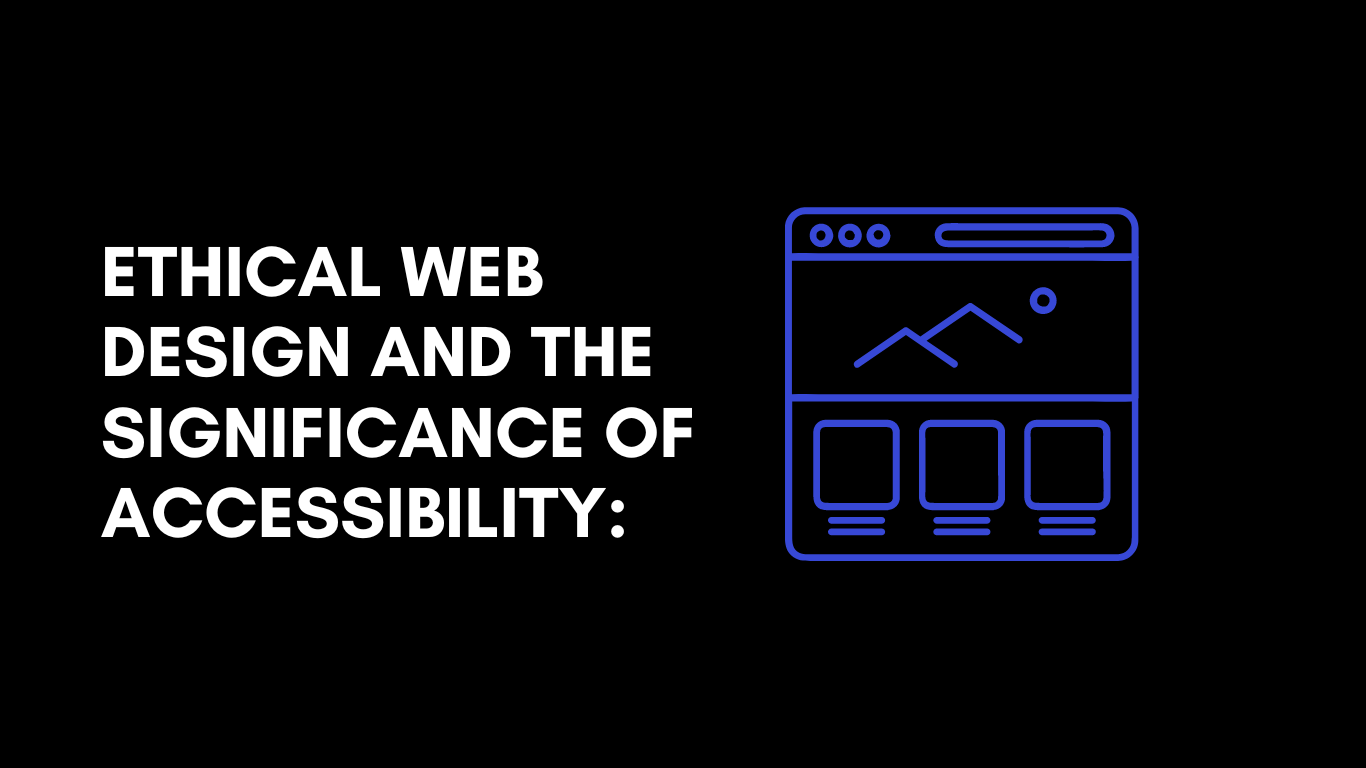 A website is one of the best ways for a company or an organization to promote itself and its services. Ethical web design is a concept that comes up a lot when a good design is considered. 
Websites are built using a certain set of rules and laws. From understanding alignment to picking up an aesthetic, there are quite a few elements that have to be considered before designing and developing a website. 
One such concept that comes up a lot when working on websites is ethical web design. The ethics that govern how your website feels and can be accessed by users are 
Ethical web design is a concept that allows a developer or coder crucial to create a good overall experience for the users.  work on a design with a thought process that is fair and just. A design based on the ethical concept of accessibility is beneficial for all users and can even be a great way to generate traffic on a website. 
In this article, we will discuss what ethical web designing is and the significance of a website that is built on the concept of accessibility.
What is Ethical Web Design:
The easiest way to define ethical web designing is that it is a form of designing where user accessibility is considered. A web design that puts the user's needs first is a good definition of an ethical website. 
To further elaborate on this, an ethical web design is a form of design that is focused on providing accessibility to a user. People who suffer from different kinds of disabilities need special treatment when it comes to using websites. A website that provides this for the user is generally considered ethical.
Some of the main examples of an ethical website are that it is a website that is accessible to a wide range of audiences. An ethical website can also have language options to facilitate people who do not speak English. Keeping user privacy in mind and protecting the data of a user is also something that comes under the ethical laws of web designing. 
An ethical website is not only good for the users but also beneficial for the website owners themselves. Ethical websites make it easier for users to use and access information from a website meaning they are likely to spend more time on the website if it follows the rules of ethics. 
Let's look at the significance of ethical web designing and how every website can use this key feature to improve its reach and quality.
Significance of Ethical Web Design: 
Ethical web designing has many benefits and use cases. These benefits are not only restricted to users but websites also receive benefits if ethical considerations are followed.
Some of the main key features are discussed below.
Accessibility and Inclusion:
The main benefit of ethical web designing is accessibility and inclusion. With the help of ethical web designing, accessibility is improved and users can interact with a website In a more meaningful manner. 
With the help of different types of parameters, a website can be made more inclusive. When a website is easy to use, has multiple language options, and can provide security to its users, the exclusivity of a website improves considerably. 
An inclusive website is also likely to be trusted by the users. Users gravitate towards a website that seems secure and provides credibility which can be done with the help of an accessible web design.
An ethical website is secure and can be trusted. Almost all website ask for the users to accept cookies when it is accessed. 
Cookies take your data which is generally kept private. An unethical website is likely to take this data and use it against the user as well. 
Ethical websites are built on trust and provide transparency in their work. A website can be made ethical if it provides options for the amount of data that is being collected from the user. Such a website should also keep track of where that data is being used and accessed. Email subscriptions and providing users with the choice to opt for them is another area where ethical consideration can be implemented. 
Learn more about data privacy here.
Ethical web designing is also considered when it comes to the UI/UX of a website. The design of a website and how it can be accessed impacts greatly the ethical usage of a website. 
Device-sensitive websites are the type of websites that are easy to use on any sort of device they are being accessed on. Whether a website is being used on a mobile or a laptop, it should be easy to use and should allow users the proper accessibility considerations.