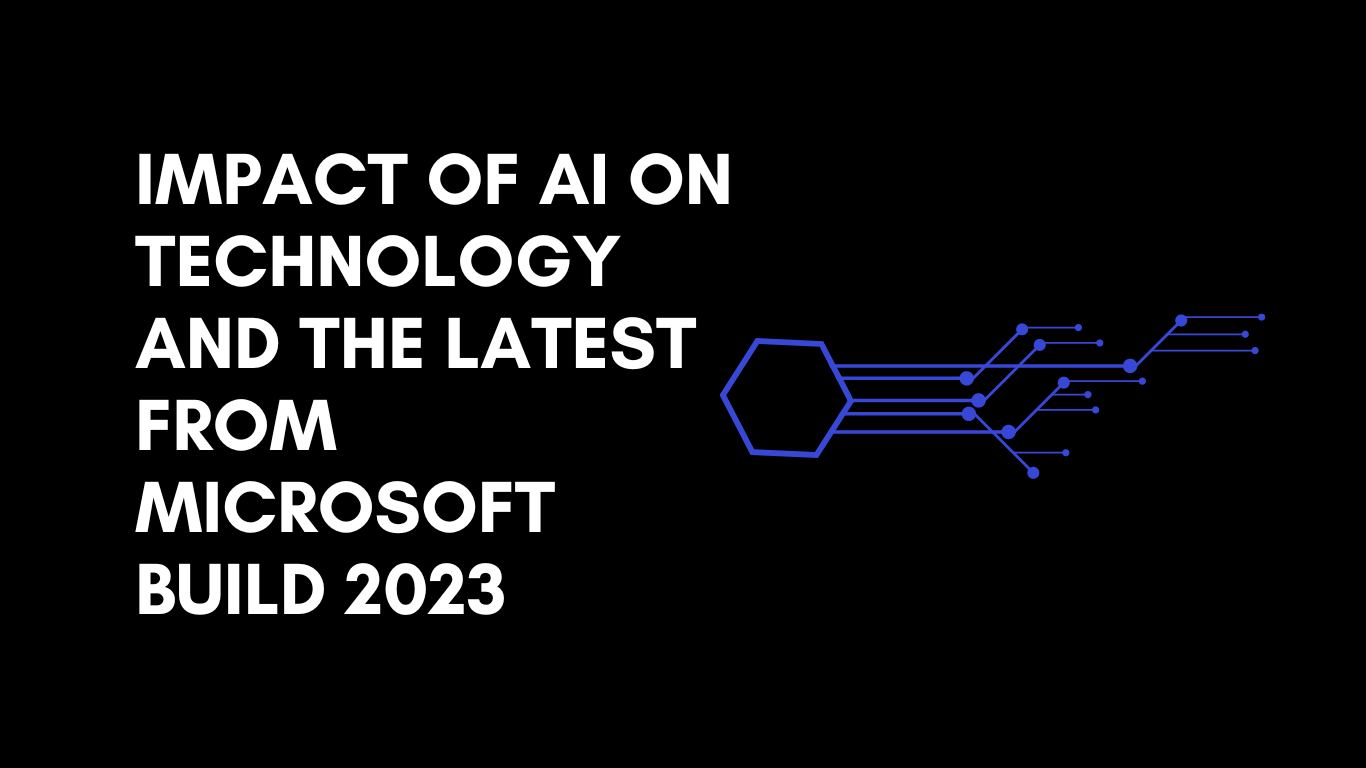 Artificial Intelligence is changing technology as we know it. From introducing new concepts to bringing about change in our way of working, AI is slowly taking over how we work and play. This article discusses the impact of AI on technology and how Microsoft Build 2023 is a great example of what we can expect from AI in the future.
AI is the future of technology. There is no doubt that AI is shaping our future every day but is likely to change how we work in just a couple of years. For the past couple of months, we have started seeing the involvement of AI in technology all around us. It all started with the introduction of ChatGPT and AI chatbots. We already had chatbots available all around us but with the introduction of AI chatbots, this technology has improved tenfolds. 
Similarly, AI has been crucial in developing many different fields of technology as well. The impact of AI has been immense and it is likely to grow further and shape our futures along with it. The possibilities of change with AI are endless. You can expect the involvement of AI in almost every field. Technology is likely to be the one field that will greatly benefit from AI and its uses. 
As of now, much new development in technology has already started with the help of AI. Artificial Intelligence is likely to improve our work and provide easier solutions to different everyday issues. There are many ways in which AI can be integrated into our daily lives. From introducing new technologies based on AI to introducing elements of AI in technology that is already present. The possibilities when it comes to AI are endless. 
Microsoft Build 2023:
Microsoft Build 2023 is a great example of how AI is changing our lives and is likely to impact the future of technology for all of us. Microsoft Build 2023 introduced many different changes that are taking place at Microsoft. Many of these changes revolve around the introduction of artificial intelligence.
Several exciting news has been publicized by Microsoft at the Microsoft World 2023. We have covered the most important news related to artificial intelligence and its impact in this article. Let's further discuss how AI is being shaped at Microsoft.  
AI Copilot for Windows 11:
As announced today, Microsoft is working on bringing its personal AI assistant to Windows 11. Copilot, the famous AI assistant by Microsoft already existed on platforms such as Edge, Microsoft Office, and more. 
There are many exciting things you will be able to do with the help of Microsoft Copilot on Windows 11. With this AI assistant, you will be able to summarise, understand, and rewrite documents open on Windows. These features are set to go under tests next month and thus will eventually reach a wider audience soon afterward. 
Microsoft Copilot Will have Plugins shortly:
One of the biggest news from Microsoft at the event Microsoft Build 2023 is regarding the addition of plugins. The company is set to introduce several different features to Copilot with plugins being the center of attention. 
Three main types of plugins will now be supported on Microsoft's AI assistant. Teams messages extensions, Power Platform connectors, and tools that use technology from ChatGPT. Lastly, dozens of third-party plugins are going to be introduced to Microsoft Copilot in the future as well.
Copilot Integration on Microsoft Edge:
Copilot seemed to be the talk of the town at the Microsoft Build 2023. Another area where you can expect copilot to be integrated in the future is Microsoft Edge. 
With the help of Copilot of Microsoft Edge, you can expect many of your daily tasks to be simplified. Copilot will be able to make your tasks easier and improve your work by providing AI features and specifications. With the help of Copilot on Microsoft Edge you will be able to use the Microsoft 365 applications in a new light. Word, Excel, PowerPoint, and other apps will now be able to function with the help of artificial intelligence.
AI Update for Windows Terminal:
With the help of integration with GitHub Copilot, now you can expect an AI-powered chatbot for Windows terminals as well. This is great news for developers who use GitHub Copilot. Now, they can directly access the chatbot within the terminal and make coding simplified. 
Writing code, making documentation and so much more can now be simplified with the help of this new addition.
Bing is Now the Default Search Engine for ChatGPT:
Microsoft has been affiliated with OpenAI for a while now and has invested millions of dollars into its development. Therefore, it was only a matter of time before we saw a collaboration between the two companies. 
This collaboration comes in the form of introducing Bing as the default search engine for ChatGPT. From now on, ChatGPT Plus users will be redirected to Bing whenever they search for something new.