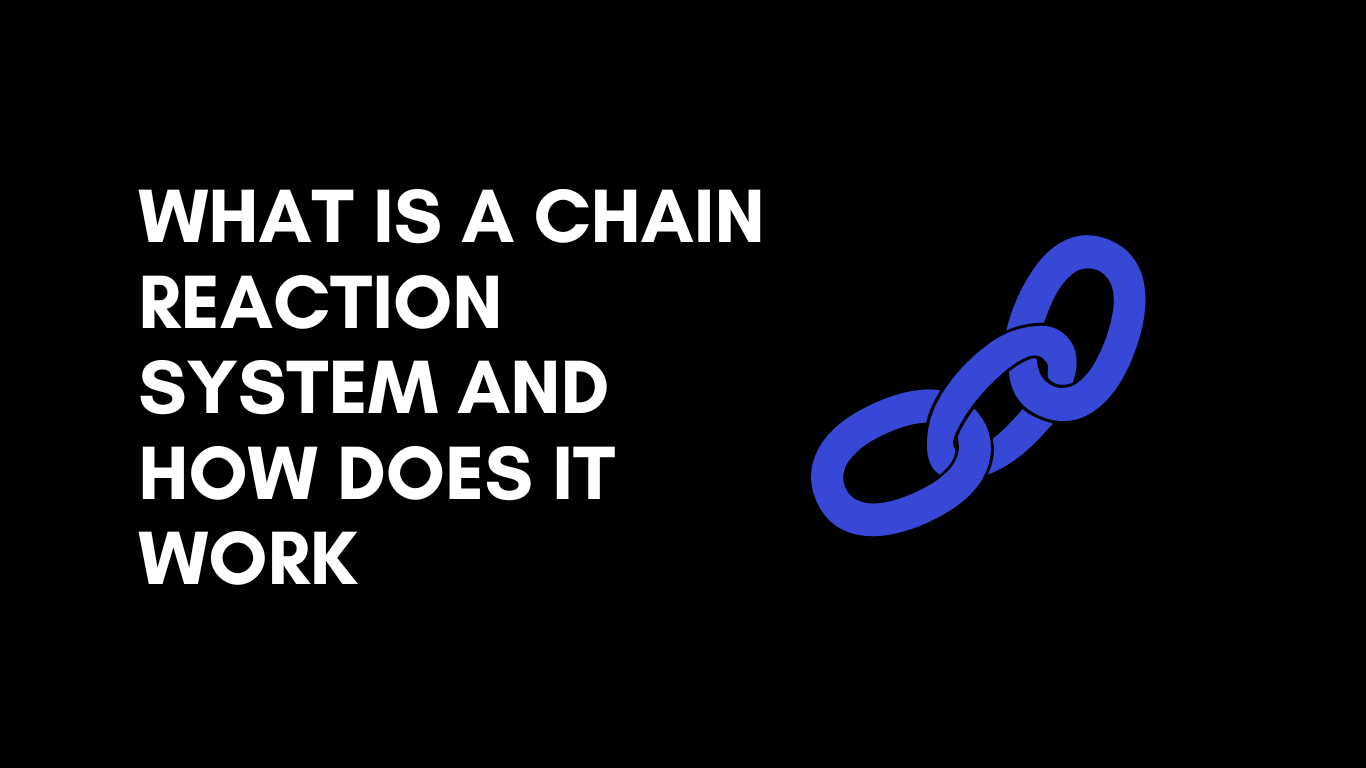 A successful office comprises several different techniques and strategies. One such strategy is that of a chain reaction system. In this article, we will discuss what is a chain reaction system and how does it work.
What is a Chain Reaction System:
A chain reaction system in its simplest terms is the flow of reaction from one event to another. A chain reaction, say a positive compliment can induce further positive outcomes like better individual performances and more. 
A chain reaction system in scientific terms is a type of reaction that carries one after the other. Such a reaction is based on the effect of the previous occurrence and improves gradually. A chain reaction system is therefore a never-ending process that needs only an initiation. 
Now that you know what a chain reaction is in scientific terms, let's further see its application in a team management or business model. 
A business or organization is made up of different individuals working towards the same goal or end objective. No matter how big or small a company is, every employee is linked with each other through the same school of thought. Everyone who works for the company is an essential part of the chain. 
In a business, it is crucial to make decisions that eventually lead to the company's success together. Planning is a crucial part of the development of any project in a company. Planning becomes more fruitful when an employee is motivated to participate. With the help of a positive chain reaction process, this can be done rather neatly. 
The effect of different events generates a positive impact on the individuals of a company which thus leads to a more positive experience and results in better outcomes.
How Does Chain Reaction System Works:
A chain reaction system is often seen as a complicated process for the development of a positive team attitude. However, the process is not as difficult as it may seem. 
A chain reaction system is essentially built on good communication. Communication among employees at all levels of an institution is the key component to building a positive environment in an office. 
Chain reaction systems in businesses require clear-cut communication as the first step in forming a good strategy for development. The only way of generating a positive outcome from a chain reaction in a business setting is to make sure that a clear plan is put forward. 
Chain reaction systems in businesses only work when the system is implemented with care and consideration. A chain reaction system for businesses includes understanding the employee demands and evaluating how these demands can be accessed. Such a system requires dedication on the part of all employees. From managers and executives down to an intern, every member of an organization has a role to play when it comes to building a positive chain reaction in the office setting. 
Learn the impact of a bad website design here.
Components of a Chain Reaction: 
A chain reaction system in a business setting has several key components that can be followed to ensure a positive attitude and the cultivation of a favorable output. 
These steps are further discussed below.
No business model is complete without proper planning. A chain reaction requires planning at every step of the way. This planning also includes understanding who would be the successor of the firm when someone in a managerial position leaves or departs. 
Planning includes providing clear-cut ideas and solutions to problems that have yet to occur. When there is a proper solution for the problems that have not occurred as of yet, it is easier to deal with them once they do. 
A positive chain reaction is cultivated at the very beginning of a job process. The hiring procedure is the first step in the introduction of any employee to a firm which is why it is a crucial step in cultivating a positive chain reaction. 
The recruitment process of a firm should be well thought out and include proper steps to ensure the smooth onboarding of individuals into the company mix.
The only place where an individual is likely to stay is a company that provides constant career growth. Career growth can create a huge impact on the decisions of employees as to whether they want to stay at an organization or not.
Success stories of a company or organization can be a compelling way to introduce more people to a company. So, the individual career growth of an employee can further help the company in bringing quality workers in the future as well.